The forced closure of Gatwick's air space in December 2018 dramatically drove home the issue of rogue unmanned aerial vehicles (UAVs) or drones that has long perplexed authorities whose job is ensuring public safety and security.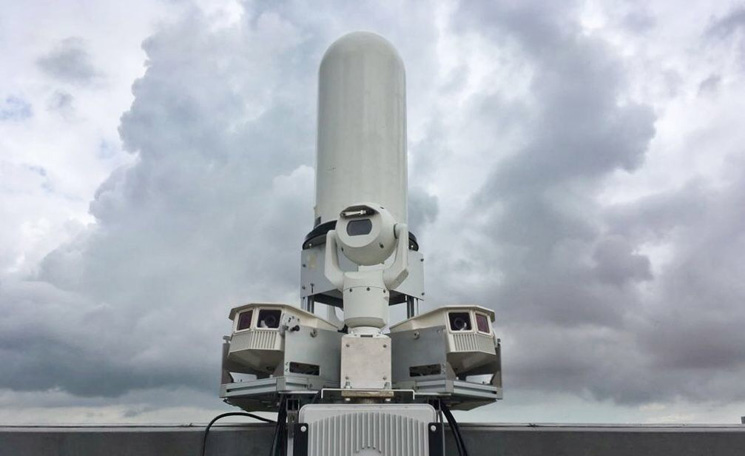 Their first challenge, before considering the myriad approaches to removing the intruders, is to accurately and reliably identify UAVs at distance.
This was the focus of a NATEP-supported project called 'Detection, Neutralisation and Investigation (DeNI) of Threat UAVs', which has been successfully commercialised as SkyPatriot.
Lancashire-based Rinicom (through its sister company RNC Avionics) led the NATEP project, with industry partner Saher UK, a technology company specialising in security applications. West Yorkshire Police (WYP), Eurocontrol, the Police National Legal Database (PNLD) and Airbus Defence and Space were the end-users.
Having found existing counter-UAV systems expensive and unreliable, the DeNI project partners set out to develop a camera-based system to automatically detect the presence of a UAV at a distance of 500m using video analytic software developed by RNC Avionics.
Their approach involved enhancing existing dual optical and video pan-tilt-zoom (Duplex PTZ) camera capability to include a novel detection, classification and tracking module. This would enable police and relevant authorities to apply the appropriate counter-measures to neutralise the UAV, and support them in identifying and prosecuting the perpetrator.
Project manager Søren Udby said the team faced several challenges, ranging from distinguishing birds from UAVs at great distance to the variety of potential operating environments and their legal and regulatory considerations.
Like most projects, DeNI evolved during its development phase. The initial focus was on the technical challenges of using cameras to accurately identify a distant UAV, which hadn't been done up to that time.
"The engineering and technical teams had to define what made a bird different to a UAV at 500m when it is essentially just a dot of 2-3 pixels on a screen," said Søren. "RNC Avionics had worked previously on another NATEP project related to cameras on UAVs, and some of the lessons learned from this project were applicable to DeNI.
"The initial results and findings led the engineers and the technical lead to think of new methods to improve the performance and 'prowess' of the system, which led to the final system exceeding the initial expectations."
One substantial change to the original concept was the exclusion early in the project's life of any 'neutralisation' technologies as part of the system development. After consulting with the police and Home Office technologists, they concluded 'shooting down' a UAV by any of several methods studied would be legally irresponsible and potentially dangerous to the public.
Commercially, the major challenge was to convince potential end-users that SkyPatriot was a serious alternative to million-pound radar installations. Authorities in Southeast Asia and the Middle East were quick off the mark, recognising the product's potential as soon as they saw it, Søren said. European interest followed; Gatwick's UAV-related headaches brought a deluge of enquiries from major airports anxious to prevent something similar happening to them.
SkyPatriot is currently in operation in the UK and a number of on-going projects and opportunities around the world are being pursued. The largest SkyPatriot installation to date, at a major European international airport, is expected to be fully operational in 2019.
Looking ahead, Søren said development is focused on increasing the detection range – currently about 1,200m – and processing speed to improve the software's capability, such as its ability to detect multiple UAVs simultaneously, and to communicate with the appropriate authorities.
Rinicom has also started a new collaboration with DeNI partner Saher UK, assisted by counter-terrorism experts, to train people interested in learning how to address UAV threats in general.
Spin-off projects have taken DeNI beyond aerospace. "The software that detects drones can detect a lot of other things too," said Søren. "One project related to maritime management of ships and containers is quite successful. This and other products have the same foundation; they come from the same root of video analysis."
Researchers are even looking into possible underwater applications, he added.
"DeNI became a well-rounded solution because of the successful collaboration between all partners that would not have been possible without the support of NATEP," said Søren.
"NATEP provided support to the project by ensuring that the team addressed all angles of the project towards a successful outcome."