A rapid machine tool verification system that promises big gains in efficiency for precision manufacturing has had its inaugural launch less than two years after it received the backing of NATEP.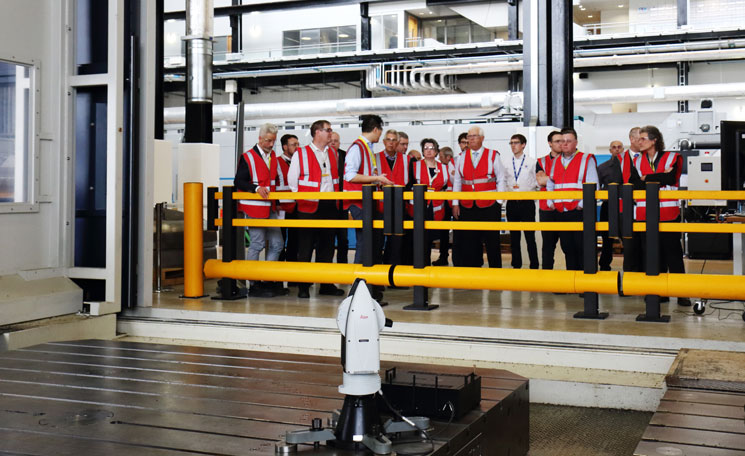 The BASELINE system, developed by project lead INSPHERE Ltd with partners Hexagon Manufacturing Intelligence, the Nuclear Advanced Manufacturing Research Centre (AMRC) and end-user Rolls-Royce, reduces machine downtime and material waste. The technology is designed to provide full verification of a large machine tool in less than an hour, making it easier to conduct frequent checks and maintain the machine's accuracy and consistency.
Guests at the launch event on 21 March at the Nuclear Advanced Manufacturing Research Centre (AMRC) in Sheffield heard how BASELINE takes the concept of Industry 4.0 a step closer to realisation. BASELINE uses a laser tracker within the machine tool to produce clear, actionable data that gives deeper insights into machine performance and supports a schedule of predictive maintenance – a move towards true digital manufacturing using machine learning, which lies at the heart of i4.0.
Ben Adeline, chief executive of Bristol-based INSPHERE, said his company's focus is on generating measurement data that can be used to enhance manufacturing processes. "A lot of manufacturers tend to check parts after they're made," he said. "We turn that on its head and check the manufacturing process to make sure it's right to produce the parts in the first place."
Large machine tools, which are traditionally used to produce precision parts for aerospace and other high-value industries, are susceptible to mechanical and kinematic problems, because of their size. Traditionally verification is costly, specialised work that takes a machine out of production for several days.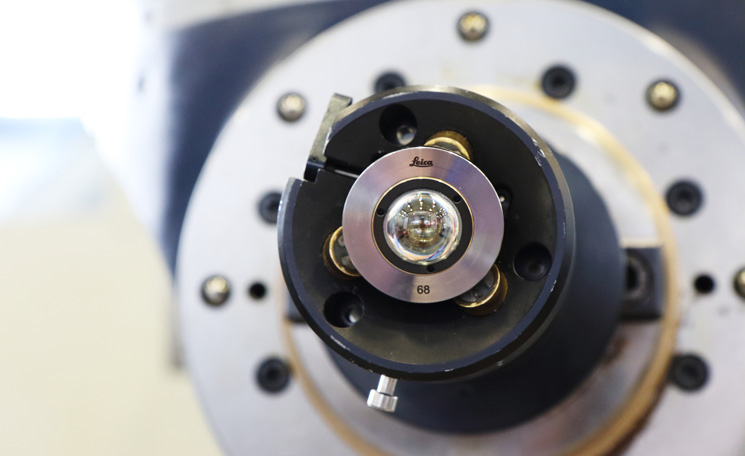 INSPHERE saw a gap in the market for a reliable, rapid system that would enable manufacturers to verify machine performance themselves. "We wanted to empower them to run their own checks in a shorter timeframe," said Adeline. "If you can do more frequent checks, you get a better body of evidence or data to see how the machine performs over time. You can identify trends and make informed decisions about routine maintenance cycles."
Adeline said customer demand inspired the idea. "It's rare," he said, "to find both measurement and machine tool expertise in-house. Typically, a manufacturer would have an annual check by a specialist using lasers and interferometers – a procedure that could take days."
With the BASELINE system, the tool operators or maintenance partners can do the same checks more frequently.
Said Adeline: "We took a commercial off-the-shelf laser tracker – well-tested and proven technology – combined it with new software so it could be used in a user-friendly manner in machine tool verification."
Since its launch, BASELINE has received expressions of interest from across UK industry; the system holds appeal in sectors including aerospace, automotive, nuclear and oil and gas where reduced machine downtime for verification will have benefits in output, productivity and competitiveness. It also promises environmental benefits through a reduction in scrap, lowering the use of both materials and energy.
Adeline says his main focus for the next 12 months is to establish the technology in the UK before looking to export markets. He hopes to take it worldwide in due course.
INSPHERE has already expanded to 10 employees and plans to employ more people as its growth accelerates. The new roles will range from application and software engineering to sales and customer support functions.
Adeline credits NATEP with providing support when it was needed. "For a small business, it's hard to strike a balance between generating commercial revenue and dedicating time to R&D," he said. "NATEP gave us the breathing space and funding to develop new IP and products.
"By exploring this idea through NATEP funding, we've had a chance to look at variants of the technology, for example applying it to automation systems as well. Now we have a fairly well-defined product portfolio that we can plan on implementing."