NATEP helped three Belfast SMEs develop a successful new approach for aircraft galleys partly inspired by the high street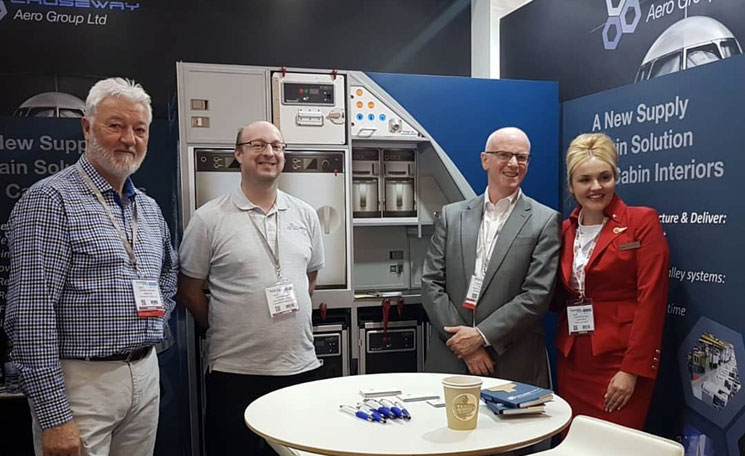 The project's industrial partners are now marketing their novel modular galley build concept that promises reduced build cycle and customer lead times and ultimately a lower cost of assembly. NATEP supported the project with £95,000 in research funding.
The new galley was exhibited at Aircraft Interiors Expo (AIE) by Causeway Aero Ltd, the joint venture set up to combine the aerospace offers of the original project partners, Belfast Aircraft Stress Engineers (BASE), Moyola Precision Engineering Ltd and Denroy Plastics Ltd. They were joined on the project by SR Technics as the end-user.
Causeway Aero chief executive Michael Rice said the group was set up as a Tier 2 aero integrator, providing turnkey engineering services, production management and final assembly "to give our customers a single product, with a single point of contact".
He said the company sees "a real opportunity" in the aircraft galley and interiors market. "Causeway Aero is most definitely open for business. It is an exciting time, and the company, with the continued commitment and focus of our staff, is moving at a fast pace in this sector."
Kevin McNamee of Denroy Plastics said the aerospace industry recognises aircraft interiors as an area of potential bottlenecks.
He said the partners had observed that the manufacture and assembly of aircraft galleys was "based on traditional manufacturing and assembly techniques which can be labour intensive.
"We thought making galleys modular would be a more efficient way of designing and manufacturing them," he said.
Joining forces as Causeway Aero brought the capabilities of all the partners under one umbrella with a full design and manufacture proposition.
Last year they took a renovated galley to AIE to show what could be done at refit with the modular concept; this year what was on display was all new.
McNamee said the modular galley has been well-received by the industry, not least for its efficiency. "Any time an aircraft is on the ground, it's extremely expensive. If you can remove the old galley and install the new one quickly – in days, not weeks – it's attractive to the airline.
"With the modular approach, it should be like choosing from a menu of off-the-shelf components," he added.
To date, Causeway Aero has made inroads in the MRO sector where there are savings to the fit-out company to have the galley designed, manufactured and installed fast.
Commercial discussions are also under way with prime contractors in pursuit of the company's longer-term aspiration of fitting out new airliners.
Meanwhile, in Bangor, Denroy has plans for a 15,000sq ft extension to its premises – an increase of 25 per cent – partly due to potential component manufacture for the modular galleys. The company is also recruiting.
McNamee said NATEP helped develop a product that's "exciting and innovative. It's created jobs in the UK and given us technological development that's protectable. We're proud of it."